August 2019 • Home/Style Section
Amalfi Coast Inspired Al Fresco Dining
Written by Will Brown
More than eighteen months ago, I began orchestrating a milestone birthday excursion to the Amalfi coast in Italy. About a dozen friends and I relaxed and immersed ourselves in the local culture—all the while deepening our relationships. I prepared the perfect backdrop, which included discovering Villa Alba d'Oro, a historic luxury villa in the city of Amalfi, where we'd settle in for a week.
One of the highlights of the trip was our al fresco cocktail party and birthday dinner hosted on the large outdoor terrace of the villa next to the stunning views of the Mediterranean Sea. My significant other agreed to organize the dinner for our group, and we rolled up our sleeves as his able sous chefs. This included visiting the local markets for produce and seafood, making pasta from scratch, and selecting artisan cheese from a local cheese maker. With his experience in the kitchen and the world of specialty foods, he was able to create and test the meal months in advance—a meal that would turn out to be one of the best we've ever enjoyed.
Returning to Kansas City has made me nostalgic for that perfect al fresco evening. For me, this is what living your most beautiful life encompasses. This is why I'm inspired to share this experience with SIMPLYkc readers.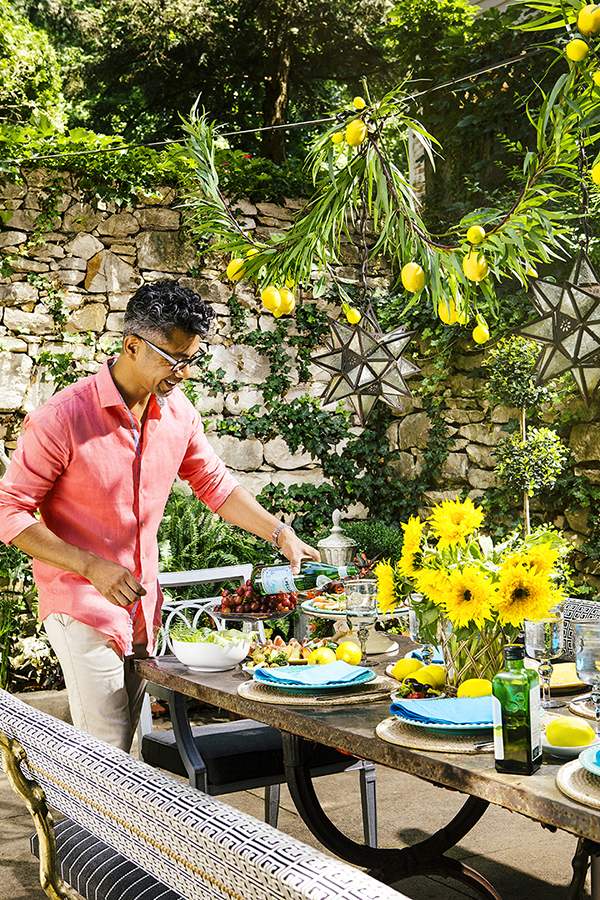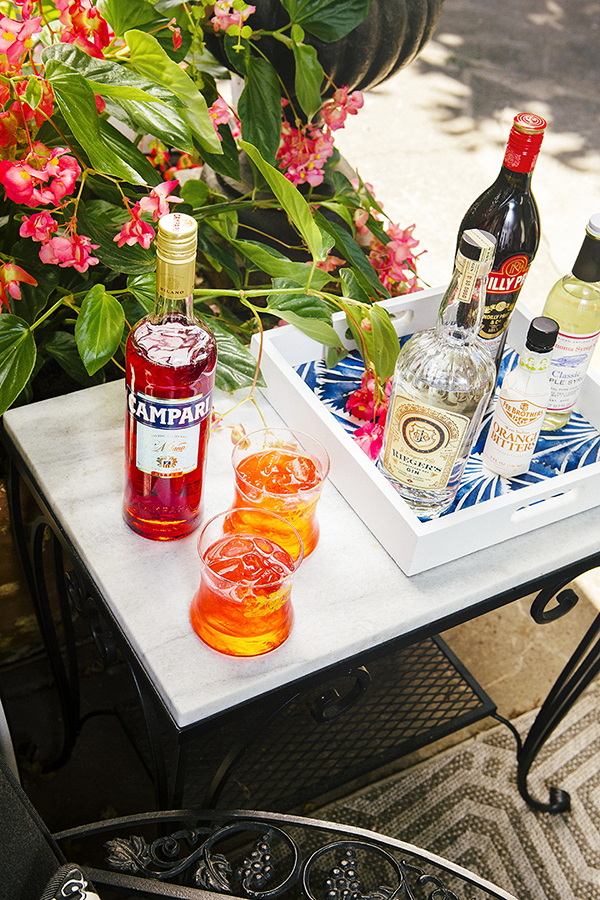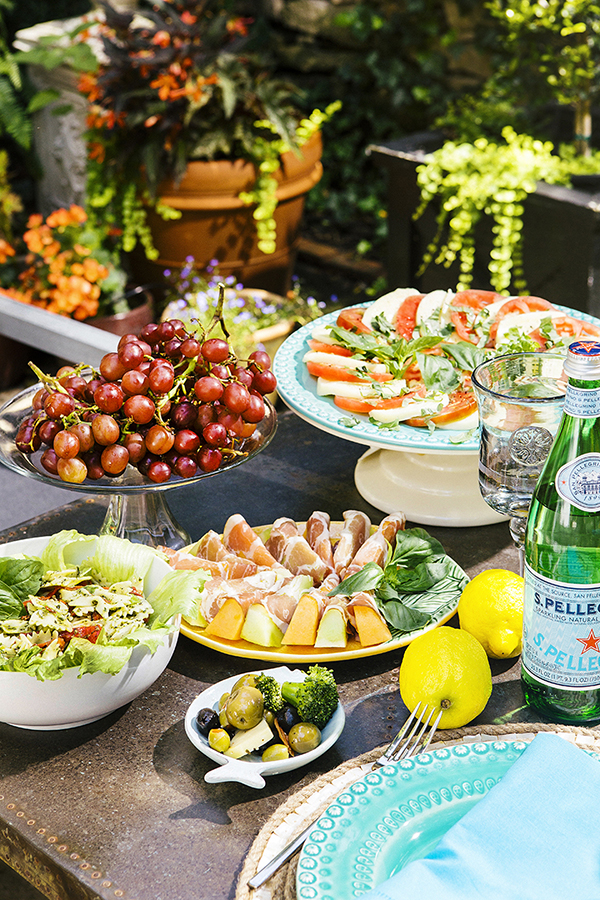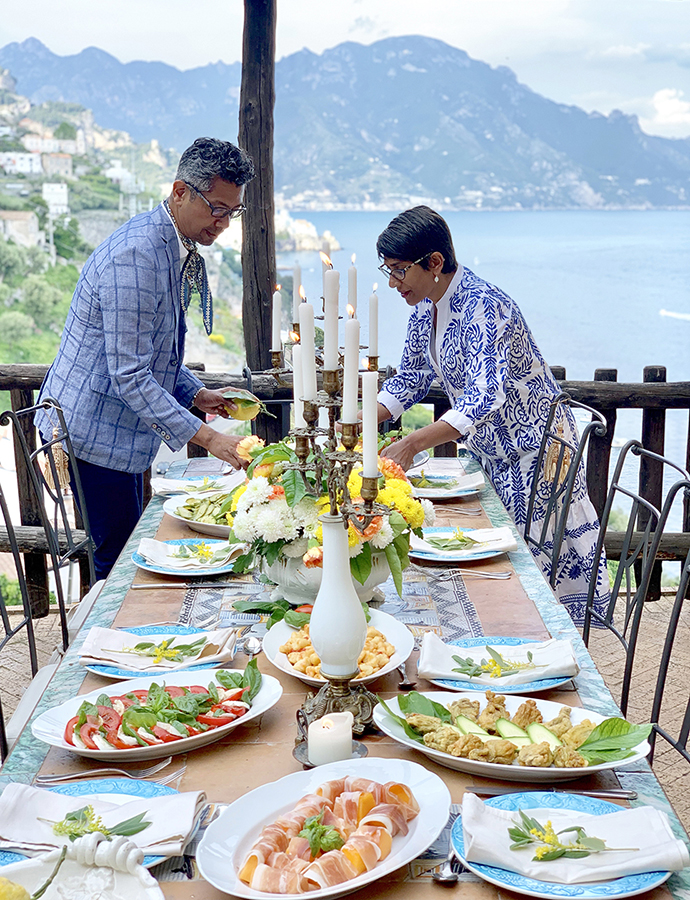 While there's no substitute for the real thing—and I highly recommend experiencing the real thing—I have done my best to bring the Amalfi coast to you right here in Kansas City! Katie Laughridge, new owner of local furnishing store Nell Hill's, and I have collaborated on this idea, and I'm excited to bring a bit of the Italian coast to the Midwest. Check out Nell Hill's before the end of summer to see a curated Amalfi-inspired product that can bring the story to life in your own backyard.
The Amalfi coast is known for several things, including its fruits and seafood, so you must include these for an authentic al fresco dining experience. For my recreation of the experience, I called on my friends to let me borrow their gorgeous backyard terrace. A memorable moment from the trip was lunch at the famous Da Paolina restaurant on the Isle of Capri, where you dine amidst a beautiful lemon grove. You can recreate a touch of that experience by draping green garland and clustered lemons above the dining table.
The region is well known for its citrus groves, so lemons, limes, and blood oranges are essential. Use them as often as possible in your dishes, as décor for your tablescape, and in your cocktails.
I won't soon forget the many hues of blue I experienced—from emerald and turquoise waters near Capri to the cerulean blue skies beyond the cliffs of Ravello. I was inspired to layer in these blues as a mixed set of linen napkins and tableware from Nell Hill's.
Seafood is also a must for a coastal Italian town. Even if you can't get your fresh catch of the day as easily as the Amalfi locals, adding shrimp, calamari, or anchovies will go a long way in helping add the taste of the sea to any salad or pasta. The petite, fish-shaped dishes from Nell Hill's are versatile as well, and you can use them for serving olive tapenade, pistachios, or olive oil.
When the evenings begin to cool down and you can enjoy the idea of an Italian escape, an al fresco meal is a great way to make the most of your summer sunsets. If you're looking for something a little different than burgers and brats, a bit more elevated but still casual, try an Amalfi-inspired al fresco dining experience.
Who knows? You may find yourself making a toast to planning your own Amalfi coast trip to the Italian lemon groves and charming coastal towns that seem to descend right into the Mediterranean Sea—all over some wonderful Negroni cocktails.
—
Let Will Brown help you design and decorate an amazing space in your home or imagine and create something spectacular for a special occasion. His hope is to help you live your most beautiful life. Visit Will at: willbrowninteriors.com • facebook.com/WillBrownInteriors • instagram.com/willbrowninteriors